The Earl's Christmas Bride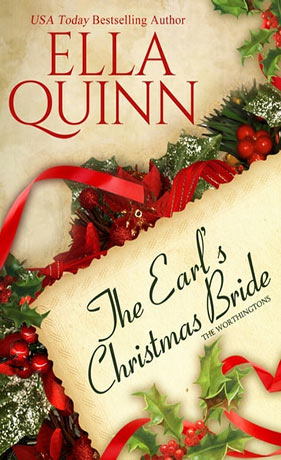 A Novella in The Marriage Game Series
September 27, 2022
Ella Quinn's charming, clever bachelors are happily single—and aspire to stay that way. But one by one, they discover that love, like the spirit of Christmas, is hard to resist . . .
To mend his jilted heart, Lucian, Earl of Devon, has been on an extended tour of Europe. But now he's returned to England—newly determined to remain unmarried. Devon accepts his friend Lord Exeter's invitation to a holiday house party only after being assured the other guests are exclusively couples and children. Yet it seems Exeter forgot to mention Miss Althea Rutherford. She is eligible, exasperatingly likable, and worse, appears to be totally uninterested in Devon—with one exception . . .

Notoriously difficult to please, Althea has been out for two years, met no one she can envision spending her life with, and is now sick of would-be suitors. In lieu of a third season, she is determined to tour the Continent—a subject Devon is enthused to discuss with her. Devon's fascinating stories of Europe only strengthen Althea's resolve to remain unattached—and weaken his own . . .

Devon thought he was finished with traveling, but the idea of making the journey with the intriguing Althea won't leave his mind. The challenge is to convince her that he'd be a much more enjoyable companion than a chaperone—perhaps for many Christmases to come . . .