Coming Soon: The Marriage List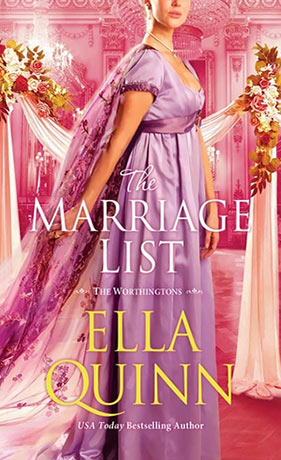 December 27, 2022
Book #1 of The Worthington Brides
For fans of Bridgerton and all who love sexy, sparkling Regency romance, USA Today bestselling author Ella Quinn presents a delightful new trilogy set in the reader-favorite world of the Worthington family.Will appeal to fans of Sabrina Jeffries, Eloisa James, and Tessa Dare.
Regency England's beloved extended family, The Worthingtons, returns in the first in a sparkling new spin-off series from Ella Quinn, as three sisters embark on their first Season, each determined to find her perfect match . . .
As part of a large, rambunctious family, Lady Eleanor Carpenter has gained some knowledge of what makes a successful marriage. She's even compiled a list of essential qualifications in a potential husband. John, the Marquis of Montagu, seems of good character (check), with money enough to support a family (check). But what of the many other requirements on her list?
Montagu, meanwhile, believes the key to a comfortable life lies in marrying someone quiet and docile. Yet the one lady who captivates him could hardly be more different to what he envisioned. Lady Eleanor is as opinionated as she is lovely, determined to improve working conditions for coal miners, even at risk to her own safety.
From evenings at Almack's to carriage rides in Hyde Park, this Season will contain many pleasures—and a few surprises that compel both John and Eleanor to rethink their expectations. For one thing is certain: love will not be defined by any list . . .

Coming Soon: The Husband List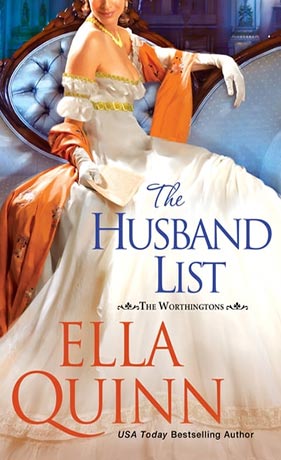 June 27, 2023
Book #2 of The Worthington Brides
Beloved by Regency fans and those who enjoy richly detailed historical romance, the chaotic and captivating Worthington family returns in a delightful new novel from this USA Today bestselling author—ideal for readers of Julia Quinn's Bridgerton series and of Sabrina Jeffries, Eloisa James, and Tessa Dare.
While her older sisters have sought out adventure, Lady Madeline Vivers is content to be the conventional one in the family. A respectable husband, spring and autumn in Town, a place in the country—these are Madeline's very reasonable goals. And Mr. Harry Stern is not the man to help her reach them—no matter how much he causes her pulse to race. He is far too ambitious and determined to make his mark in Parliament. Yet, somehow he's convinced that Madeline is just the helpmate he needs . . .
The moment Harry witnesses Madeline gently convincing a shopkeeper to hire the child who is stealing from him, he's intrigued. If only she realized how much good they could do together, aiding their fellow countrymen and women. And the way her color deepens at his touch tells him she too feels their intense attraction. In fact, Harry has never felt so powerful an attraction either. What better reasons to use all his gifts of persuasion to convince her she belongs by his side—and in his arms . . .