Miss Featherton's Christmas Prince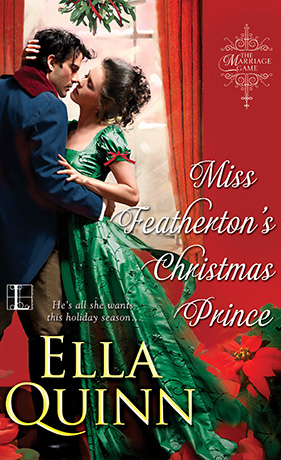 Book #9 of The Marriage Game Series
November 10, 2015
Ella Quinn's wealthy, titled bachelors think they're immune to romantic notions. Yet no matter how they try to evade it, love somehow finds a way...
In the two seasons since her triumphant debut, Meg Featherton's heart has been tested to its limits. Her first suitor: a criminal. The second, a cad. For her third act, Meg vows to leave love completely out of the marriage equation. She has set her sights on a newly made viscount whom she could take or leave. However, now she must avoid his handsome, roguish, irresistiblebest friend like the plague. It's no easy feat, as they are all attending the same house party…
Damon, Marquis of Hawksworth, cannot imagine why Miss Featherton seems so damn disinterested—or why he cares so terribly much. Certainly Meg is a fine wifely prospect for a man in his position, but more than that, he finds he longs for her as he has never done for another woman. She may be determined to protect her heart, but Damon is equally set on winning her over, one delicious kiss at a time...

"The Marriage Game series winds down in this last entry that is full of surprises. Victims of a matchmaking godmother and a dowager duchess, Meg and Damon slowly realize they are meant for each other in Quinn's entertaining novel. Poignant at times, it's a story to savor by a crackling fire."
~RT Book Reviews, 4 Stars~