Rogues, Ladies & Mistletoe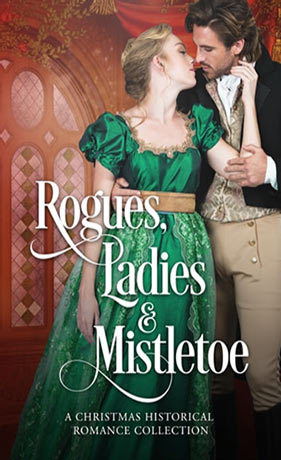 December 2022
Ring in the holiday season with this Christmas themed historical romance collection ...
From sweet to sensual Rogues, Ladies & Mistletoe contains over 2000 pages of Christmas themed historical romance books. It includes 7 books by 7 different authors including many New York Times and USA Today best-selling authors.
Lauren Royal: A Secret Christmas
Christmas has been outlawed by the new Commonwealth regime—but that won't dampen Lady Chrystabel Trevor's holiday spirit. When she finds herself snowed in with the Viscount Tremayne, merrymaking leads to mayhem. In a time of fear and oppression, can the magic of Christmas bring two hearts together?
Cheryl Bolen: One Room at the Inn
When he helps a lovely widow and her two small children who have no home, little does he know it will change the course of both their lives.
Emmanuelle de Maupassant: The Lady's Guide to Scandal
Prepare for witty banter and laugh-out-loud scenes, a bluestocking heroine who meets her match, a fake engagement, and a Christmas party that changes everything...
Erica Ridley: The Duke's Desire
Meg Church adores two things: life in a village of perennial Yuletide, and the freedom of being a spinster with no reputation to protect. Oh, very well, three things: She's harbored a secret tendre for Christmas curmudgeon Lucien le Duc since the moment she first glimpsed him. But the sexy blacksmith won't give her the time of day, much less a night of torrid passion.
Ever since Lucien le Duc was forced to flee his beloved France during the revolution, his all-consuming goal has been to recover not only his lost land and fortune, but also his rightful place among the French aristocracy. He would never be distracted by an English dairy maid's sultry glances… or her soul-consuming kisses… or the temptation to turn one night into forever…
Ella Quinn: Married by Twelfth Night
Lady Euphrosyne Trevor knows exactly what she wants in a marriage, love and partnership.
Charles, Marquis of Markville is wary of involving himself with Lady Euphrosyne. Yet, he can't seem to help being drawn to her and falling in love.
Claire Delacroix: The Snow White Bride
Out of necessity, Lady Eleanor marries Alexander, Laird of Kinfairlie. She's just beginning to fall for him when dangerous enemies strike. Will she trust her husband enough to save everything they hold dear?
Amanda Mariel: Stealing a Rogue's Kiss
Determined not to grow old alone, Daphne takes fate into her own hands. Marcus made her a promise years ago, and she's ready for him to make good on it. He would give Daphne her first kiss once she was of an appropriate age. Not one to turn down a beautiful woman, he delivers on the promise. One passionate moment that neither will soon forget, but how could either of them have guessed where one stolen moment would lead?