Meet the Worthingtons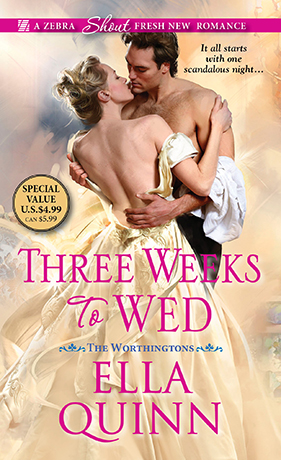 Ok, I'll be the first to admit that this series has a lot of people in it. So I thought I'd give you a chance to get to know them. The series begins with Three Weeks to Wed. This is Matt and Grace's book.
Mattheus, Earl of Worthington – Matt is in his early thirties and has spent most of it playing around, except when he is acting more like a father to his four step-sisters, ranging in age from eight to eighteen, than their father ever did. However as the book opens, his mind has turned toward marriage.

Lady Grace Carpenter – When she was barely twenty-one, Grace's mother dies in child birth. Her father died eight months prior. Her mother has one last wish, to keep all the children together, and Grace promises she will. Unfortunately, none of her uncles on her father's side think she is capable of raising seven children; the youngest still in leading-strings. But Grace prevails, and even though it means she'll never marry, she is determined to raise all the children.

Patience, the Dowager Lady Worthington – Patience was married to Matt's father at the tender age of sixteen. She expected a grand love, but wasn't to be. The former Lord Worthington never stopped loving his first wife. Since her year of mourning ended, she has become a leader in the ton.
The Children: From eldest to youngest.
Lady Charlotte Carpenter and Lady Louisa Vivers – Charlotte and Louisa are both eighteen and ready to make their come outs.

Charles, Earl of Stanwood – Charlie is Grace's brother. He is sixteen and attending Eton, but already takes his role as head of the Carpenter family seriously.

Lady Augusta Vivers – At fifteen, she is still in the schoolroom and is not sure she really does want to come out. Languages are much more interesting to her.

Walter Carpenter – Walter, age fourteen, is more than ready to join his brother at Eton. He is interested in horses, boxing, and has lately found a passion for languages. Augusta has become a welcome friend.

Ladies Alice and Eleanor Carpenter and Lady Madeline Vivers – Alice, Eleanor, and Madeline are all twelve and very silly. They have also become inseparable. Matt is dreading the day they make their come out.

Philip Carpenter – At age eight, Philip is missing that fact that his father is no longer around. Despite their age difference, he and Walter are very close.

Lady Theodora Vivers – Theo, eight going on eighteen, was the baby of the Viver's family until they joined with the Carpenter brood. Her mother swears she earned her name with Theo. She has also become great friends with Mary.

Lady Mary Carpenter – Even at the young age of five, Mary has shown remarkable empathy for others around her. It will be interesting to see what life brings.
The Animals:
Duke and Daisy are both Great Danes. At age three, Duke is a well behaved gentleman. Daisy, on the other hand, is not quite a year and a half and not at all well behaved.
Please visit again as this list will be updated as the series progresses.